What is a curriculum?
At the beginning of your course creation journey, you might create a mind map of your course, scribble down notes of what you should include, and maybe you even have post-it notes scattered all over your wall.
While this is a great place to start brainstorming your course, it is not sufficient for a course curriculum.
Later in this blog post, you will clearly see the details that comprise a course curriculum and compare these to curriculum mapping and lesson planning.
However, in a nutshell, a course curriculum is a structure to your online course.
It helps you to be able to visualise the overall course goal so you can write a structure of outcomes. This structure will help you to support the student in achieving the required competencies to reach the goal.
Think of these outcomes as the stepping stones that a student needs to take to accomplish the goal. To reach each stepping stone, a series of events need to happen. Consider these events as the competencies students need to reach each stepping stone.
Why is a curriculum so important to your online course?
Your curriculum must focus on the end goal for your students, which is what they will achieve by completing your course.
With the end goal in mind, this will help you to ensure that every lesson in your course is streamlined towards one direction. In doing so, you can clearly identify what information to include in your course, and which to omit.
This will stop you from falling into the trap of overwhelming your students with information. I know that you want to give your students the value they deserve, but that doesn't mean you must overload them with content that they cannot absorb.
This is called cognitive overload. It happens when your students are overwhelmed with information that they can no longer cognitively process.
The last thing you want is that your students walk away from your course feeling that they did not learn a thing.
The importance of a curriculum is to help you ensure you include the right information that will support your students to achieve a goal. This is the first step you must take in course creation.
Why should I create a course curriculum first?
The course curriculum, as you will see below, will provide you with the tasks that you need to do to be able to design, create, and launch an online course.
Remember, a course curriculum is a structure to your online course. The result of building this structure is that you have a list of everything you need to create to launch your online course that is streamlined towards one overall goal.
How to map the right lessons to your course curriculum
Now that you know the importance of a course curriculum it is time to create yours.
Below is an overview of a course curriculum, how you can map lessons to that curriculum and how you can start planning lessons so that you are ready to create your course.
Course Curriculum
A course curriculum must include 3 important aspects:
An Overall Course Goal
Learning Outcomes (the stepping stones to reach the goal)
Competencies (knowledge, skills and abilities to reach the stepping stone)
At each level, you break down the course goal into more manageable chunks. It is much easier to create lessons that are linked to competencies rather than compiling an array of lessons that broadly meet the course goal.
To identify the competencies, ask yourself, "for my students to achieve the learning outcomes they need to be able to …"
This sentence structure will help you to determine what knowledge, skills and abilities (aka competencies) students need to achieve the learning outcomes. You can use the same sentence structure when writing your goal and learning outcomes.
Here is an example of the 3 above elements (hint: use the sentence structure above when reading below to get used to using it):
Course Goal:
Launch a successful online course without the overwhelm, stress or fear
A Learning Outcome (1 of 12):
Develop a curriculum for the first version
Competencies:
Knowledge
Skills
Abilities
Interpret why curriculum design is important to course creation and must be the first step
Recognise how curriculum design affects the entire agile project and is the first task
Complete an outline of what students will be able to do by the end of version 1
Rewrite the outline into a curriculum with a goal, learning outcomes and competencies
With practice, it becomes easier to write these three elements. You can learn more about each element in my YouTube channel.
A curriculum helps you to ensure all your lessons are streamlined to your course goal, and that is where curriculum mapping comes in.
Curriculum Mapping
The activity of curriculum mapping can change drastically across industries based on industry regulations.
For example, in Australian Vocational Education, the regulatory bodies provide colleges with curriculums. The colleges then need to demonstrate in which lessons, activities and assessments are the students learning and demonstrating the required competencies. This is the act of mapping content to the curriculum.
For your online course, when you don't work in a heavily regulated industry, your curriculum mapping won't need to be as in-depth. Regardless, I recommend that you do map your content ideas to your curriculum.
This may look different to everyone, however, I like to create a matrix style table in Google Sheets. I can easily use checkboxes to identify what lessons will be used for which competencies. I then later expand on each of these lessons which you can read more about below in lesson planning.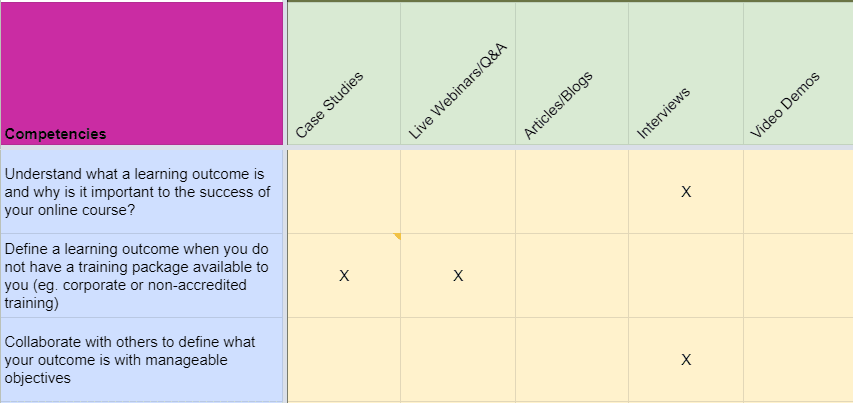 But first, let's look at an example.
Going back to the above example, a knowledge competency is "Recognise how curriculum design affects the entire agile project and is the first task"
To identify what lessons to include, I will ask myself "to help my students be able to [insert competency] how can I support them?"
As this is a knowledge-based competency, students don't need to practice a skill nor need to form abilities. They don't require a demonstration nor a list of steps to follow.
What can support them is:
Case studies of a course without a curriculum vs one with a curriculum
Podcasts talking about the benefits of a course curriculum
Blog posts about what a course curriculum is and how it will help you to create a successful online course
See how each one of these lessons is directly related to the competency and ONLY that competency?
When all competencies are achieved, the students will achieve the learning outcomes. When all learning outcomes are achieved, students will achieve the overall goal. This is what a streamlined course structure will result in.
Now, at this stage, the course mapping only lists what types of lessons will be included, it doesn't further break down what will be included in these lessons.
However, before you start writing lesson plans, I recommend you create a structured flow of all lessons. This helps you to identify if there are any gaps, any restructures are required, if there is any unrelated content and if there is too much content.
This is a great way to visualise what your course will look like and how students will move through their learning journey.
Lesson Planning
Whether you are delivering live workshops or creating online activities and videos, you need to have a plan. This may be a simple lesson plan or a complex storyboard.
Regardless, of what your plan looks like, it should include at a minimum, the following elements:
The outcome of the lesson
The objective/s of the lesson
The sequences or order of information
The content that is broken down into:

What the student will see (screen share, demonstration, animation, talking head)
What the student will hear (the information you provide, music, audio)
What the student will do (instructions you provide for the student)
In a live session, the lesson plan helps you to maintain a structure and not to forget to do or say important parts. For example, the lesson plan will highlight when to display an in-session poll or when to prepare attendees to work in breakout groups.
Likewise, in a recorded video or eLearning content, a plan helps you to visualise the entire content and ensure you have all assets ready to go when recording.
The difference between a lesson plan and course mapping is that course mapping takes a curriculum and maps appropriate lessons and activities to that curriculum. While lesson planning clearly outlines what content will be included to support the students to achieve the outcomes.
The Wrap Up
Both course mapping and lesson planning are equally important, and they both stem from your course curriculum.
At the end of the day, you don't want your course to merely be a combination of different lesson ideas. Rather, you want each lesson to specifically be chosen and strategically in the right place to support your student's success.
This is why it is so important to start your course creation process by designing a structured course curriculum.
Are you ready to design your curriculum? Click here to download my free course curriculum template with instructional videos.
*Guest blog by Kat Sorbello of The Stella Way
PS: At the Course Creator Community we have one of the largest Facebook Groups in the world for Course Creators. Everyone in there is super supportive and we all share tips and ideas!
We would love to invite you to join our Group! Simply click the link below to join
Click here to join the Course Creator Community Facebook Group
Connect with the Course Creator Community
Click here to join our Facebook Group
Click here to follow us on Instagram
Click here to listen to our Podcast
Click here to Watch all our YouTube episode
Connect with The Blogger
Jono Petrohilos
Connect on Facebook
Connect on Instagram
Connect on LinkedIn
Related Content
Course Creation Course: Create Your First Online Course
How to launch your course in less than 30 days with Madison Manathunga